Jay Aspin is pleased to rejoin the Near North District School Board for the third time and serve his third time as Chair. For four decades, he has committed himself to elected public service in the North Bay and Northern Ontario region. He served as a Trustee with the Nipissing Board of Education and the Near North District School Board for seven terms on two separate occasions, Councilor with the City of North Bay for six terms. Recently he served in the parliament of Canada as the Member of Parliament for Nipissing-Timiskaming. His extensive experience has resulted in leadership roles as the President of the Federation of Northern Ontario Municipalities (FONOM), president of the Northern Ontario School Trustees Association (NOSTA), Chair of the Aerospace Caucus in the federal parliament.
This term he is dedicated to working with parents, teachers, administrators and educational officials to provide quality education for students of this region. Due to his long history with the Near North District School Board and his passion for education, he is motivated to provide the leadership to establish and implement an effective board Governance Model which will ensure transparency, accountability and open communications by creating a culture of respect, ethics and excellence. Another one of his key goals is assist the board in implementing an effective Multi-Year Plan that will restore this board's reputation as one of the finest in Ontario.
Mr. Aspin is a graduate of the Near North District School Board and has earned degrees in Mathematics and Economics from the University of Waterloo as well as certifications in international trade (CITP), economic development (EcD), management consulting (CMC), and board director's governance (ICD.D). He is the President of Aspin International Development Inc. a private consulting firm that assists businesses grow internationally.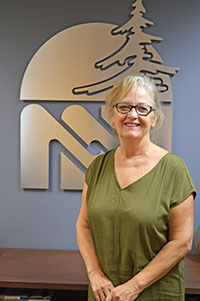 Caren Gagne was appointed as the Zone 2 Trustee on Sept. 21, 2021. Ms. Gagne and her husband ran a business in Zone 2 for 40 years and live in Rutherglen. In addition to her business background, Ms. Gagne has extensive volunteer experience for several organizations, all aimed at the betterment of the community. Now retired, Ms. Gagne says her business experience has shown her the value of a quality education and she would like to be part of preparing students to tackle anything they want in the future.

Nichole is a member of Moose Deer Point First Nation where she is currently employed as the Education Counsellor. In her role as the Education Counsellor she has worked in many areas in support of First Nations students and understands the challenges that parents, and students might come across at all stages of their education journey from JK to Post Secondary. With a Social Worker background and 5 years in Marketing/Communication with Metroland Media as one of the top Marketing Specialists of her region, Nichole's goals include, improved and enhanced communication, building relationships between families, schools and school boards and communities, to enhance learning outcomes and the individualized learning experiences for all students.
Currently, Nichole sits on the Kinoomadziwin Education Body Board (K.E.B.) of Directors representing 23 participating First Nations across Ontario. She has been an active Board Member on the K.E.B. for 2 years, during the critical development of the Anishinabek Education System. This has given her extensive experience working as an effective Board member. Her passion to bring communities together, enhance education services and integrate culture into our schools has been demonstrated through her continued dedication in all aspects of this role. She believes that working together brings greater opportunity to understand the diversity represented by our students, families and communities and fosters a culture of understanding, mutual respect and collaboration.
Nichole is also an active member of the First Nation Advisory Council (FNAC), the First Nation Education Counsel (FNEC), and the Education Advisory Council (EAC) with the Ogemawahj Tribal Council. Being an active member on these committees has helped Nichole to gain unique insight and knowledge of the education systems and needs. She is dedicated to representing, not only her First Nation, but all First Nations. Nichole is passionate about bringing people together and working collectively in the communities to work through both the common and unique issues. Nichole is committed to continuing to work to build relationships with each First Nation and participate in a variety of committees to share her knowledge and take what is learned back to communities in order to better serve all students.

I have volunteered in a variety of positions in the educational sector for many years. This began when I was an active participant on parent-teacher councils when my daughters were in public and secondary school in Sudbury about 30 years ago. More recently, this summer marks the end of 12 years as a governor on the Cambrian College Board of Governors, on which I fulfilled a variety of roles including governor, Chair of the Audit and Finance Committee, and a term as Chair of the Board. The college had an annual budget of over $60 million and part of my role while the chair was negotiating with the then Minister and Ministry of Trades, Colleges and Universities.
I was also a director with the Sudbury Credit Union for 10 years until my wife and I moved to Parry Sound in 2014. During my time on the board of directors, I was Chair of the Audit Committee for several years, the credit union has assets of over $400 million.
I was also a FedNor Director, during which time I interacted with all levels of government, community and business leaders, to study and approve funding requests from various private industry initiatives in Northern Ontario, which included Parry Sound district. Lastly, I have been a Human Rights Commissioner, during which time I gained significant experience in human rights legislation.
As you can see, through my positions, I have significant experience working with all levels of government and a strong financial background. I believe this experience positions me well as a Trustee on the Near North School Board to work with parents, teachers, politicians and the Ministry of Education in the best interest of our children's education and to lobby to meet our local needs. I believe our children should be provided with healthy, age appropriate education that recognizes diversity and prepares them for our rapidly evolving digital world and the risks that are involved.
If you have any questions or would like to talk to me about education in the Parry Sound district, please feel free to contact me.

My name is Rob Learn, I'm a local businessman acclaimed to the trustee position of the Near North District School Board for Zone 3.
I come to the position with a passion for public education where every student is afforded the opportunities to learn, explore and develop, and a deep understanding of rural education and the importance community plays. Raised in the remote village of Restoule, I spent considerable time on busses attending Kindergarten, junior high school and high school. Today I am the father of three boys attending three different schools in the Near North family.
This coming term for the Near North, and it seems education in general in Ontario, will be an exciting one as parents and community undertake a revitalization of this essential service. For example, I am keen to see developments to revamp, make relevant the junior math curriculum.
At the Near North board in particular, no doubt, trustees have large responsibilities to bear in North Bay and Parry Sound where secondary school renewal must remain a top priority.
These and other initiatives will be successful because of the dedicated staff of the Near North board who are proven leaders in Ontario and can be counted on to take up the challenges facing them, our students and our communities.
Please know I always do my best to be available as your Zone 3 representative and I am looking forward to doing my part in the upcoming renewal of public education.

I am a recently retired secondary school principal who worked for almost 30 years in the field of education in a variety of roles in both elementary and secondary schools. I am a long-time resident of North Bay and my husband is a local business owner. My adult children are both graduates of the Near North District School Board.
I care deeply about the future of education and I know that it is imperative that students who attend schools in the NNDSB have opportunities that will allow them to be prepared to pursue post-secondary education or work. I believe strongly that our students, parents and staff deserve the best possible working environments so that we have healthy and productive school communities. I feel honoured to represent my community and I am blessed to be able to continue working in the field of education.