Nichole is a member of Moose Deer Point First Nation where she is currently employed as the Education Counsellor. In her role as the Education Counsellor she has worked in many areas in support of First Nations students and understands the challenges that parents, and students might come across at all stages of their education journey from JK to Post Secondary. With a Social Worker background and 5 years in Marketing/Communication with Metroland Media as one of the top Marketing Specialists of her region, Nichole's goals include, improved and enhanced communication, building relationships between families, schools and school boards and communities, to enhance learning outcomes and the individualized learning experiences for all students.
Currently, Nichole sits on the Kinoomadziwin Education Body Board (K.E.B.) of Directors representing 23 participating First Nations across Ontario. She has been an active Board Member on the K.E.B. for 2 years, during the critical development of the Anishinabek Education System. This has given her extensive experience working as an effective Board member. Her passion to bring communities together, enhance education services and integrate culture into our schools has been demonstrated through her continued dedication in all aspects of this role. She believes that working together brings greater opportunity to understand the diversity represented by our students, families and communities and fosters a culture of understanding, mutual respect and collaboration.
Nichole is also an active member of the First Nation Advisory Council (FNAC), the First Nation Education Counsel (FNEC), and the Education Advisory Council (EAC) with the Ogemawahj Tribal Council. Being an active member on these committees has helped Nichole to gain unique insight and knowledge of the education systems and needs. She is dedicated to representing, not only her First Nation, but all First Nations. Nichole is passionate about bringing people together and working collectively in the communities to work through both the common and unique issues. Nichole is committed to continuing to work to build relationships with each First Nation and participate in a variety of committees to share her knowledge and take what is learned back to communities in order to better serve all students.
Allen is Anishinaabe and Coast Salish from Magnetawan First Nation. The Grade 12 student at Parry Sound High School is also a member of NNDSB's Indigenous Youth Circle and Student Senate. He wants to show the Board what matters to Indigenous students. Allen says it's important to him to share Indigenous students' great ideas and goals, and hopes he is able to make change.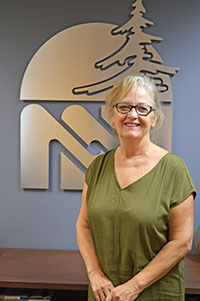 Caren Gagne was appointed as the Zone 2 Trustee on Sept. 21, 2021. Ms. Gagne and her husband ran a business in Zone 2 for 40 years and live in Rutherglen. In addition to her business background, Ms. Gagne has extensive volunteer experience for several organizations, all aimed at the betterment of the community. Now retired, Ms. Gagne says her business experience has shown her the value of a quality education and she would like to be part of preparing students to tackle anything they want in the future.
Cecilia is a Grade 12 student at Almaguin Highlands Secondary School. She says she's very approachable and has established a communication plan and wants to represent all NNDSB students at the Board as the student trustee. One of her major focuses will be mental health and wellness, and she wants to inspire other students, and help them feel they have a voice. She hopes to start new initiatives that benefit students during her term at Student Trustee.

I am a recently retired secondary school principal who worked for almost 30 years in the field of education in a variety of roles in both elementary and secondary schools. I am a long-time resident of North Bay and my husband is a local business owner. My adult children are both graduates of the Near North District School Board.
I care deeply about the future of education and I know that it is imperative that students who attend schools in the NNDSB have opportunities that will allow them to be prepared to pursue post-secondary education or work. I believe strongly that our students, parents and staff deserve the best possible working environments so that we have healthy and productive school communities. I feel honoured to represent my community and I am blessed to be able to continue working in the field of education.

Bill Steer is the founder of the Canadian Ecology Centre (CEC) and remains as the General Manager/Head Master of one of Canada's leading environmental education centres. The CEC has been in existence for 19 years. His teaching approach has always been through the "emotional intelligence." He was a former teacher with the NNDSB and was one of the first male kindergarten teachers in the province. He has been a member of both teaching federations.
At Nipissing University, he teaches part-time; geography and outdoor experiential education courses along with the environmental science AQ courses for the Faculty of Education's, B.Ed. candidates. He sat on the original O.C.T., Outdoor Experiential Education committee that developed the OEE AQ. At Can adore College in North Bay, he teaches geomatics to environmental technicians and to post graduate students; as well as the "dual credit" program for students at risk.
He holds degrees and diplomas from Laurentian University, (Nipissing College) McMaster University and Durham College. In 2016 he was selected by the Canadian Institute of Mining as a "distinguished lecturer" for his accomplishments within the field of environmental education.