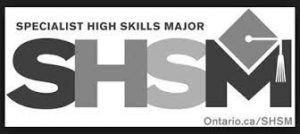 Construction Specialist High Skills Major
The Construction Specialist High Skills Major is a program that gives students the opportunity to focus their learning on either Building Construction, Architecture, Engineering or Robotics. The program enables students to build a sound foundation of sector-focused knowledge and skills before proceeding to college, university, apprenticeship training, or an entry-level position in the workplace.
Construction SHSM students have the opportunity to participate in out-of-school construction activities, co-op placements at local architectural / engineering firms or the FIRST Tech Challenge robotics competition.
The STEAM High Skills program, as part of the Construction SHSM program, offers grade 11 & 12 STEAM students the opportunity to earn the SHSM seal in combination with their STEAM certificate. The STEAM High Skills program focuses on the engineering and robotics disciplines by incorporating FIRST Robotics activities and core values into the program.
Did you know...
More than 25% of the construction workforce is expected to retire between now and 2029.
~Careers in Construction, 2021
Manufacturing & Mining
The SHSM in Manufacturing & Mining at WFSS is a "hands on" program offering students an opportunity to test drive and experience a wide variety of skilled trades required in the manufacturing and mining sectors including welding, machining, plumbing, electrical, hydraulics and pneumatics. Many students discover an interest or talent in a particular trade they didn't realize they had and will focus on that in a co-op placement with local industry or in their post secondary education..
Environment
SHSM–Environment enables students to build a foundation of sector-focused knowledge and skills before graduating and entering apprenticeship training, college, university, or an entry-level position in the workplace. Where local circumstances allow, boards may elect to offer one or more variants of the SHSM in a given sector, each with a particular area of focus. This SHSM may be designed to have a particular focus – for example, on environmental science or environmental studies. This focus is achieved through the selection of the four major credits in the bundle.
Hospitality and Tourism 
The Specialist High Skills Major (SHSM) program in Hospitality and Tourism gives students an opportunity to specialize, gain qualifications, and plan a career pathway in various areas of the Hospitality and Tourism sector while still in high school. The SHSM Program has a number of required components, designed to give students a "leg-up" to pursue post-secondary opportunities in each of the identified sectors, valuing apprenticeship, college, community, university and the workplace.
The five tourism industries in Canada include opportunities in hospitality and tourism, accommodation, food and beverage services, recreation and travel services. Tourism in Ontario is a dynamic, growing sector. Prospects for satisfying employment and career advancement in the hospitality industry have never been better, locally and world-wide.
BUSINESS
The Business SHSM provides students with experience in Marketing, Accounting, Entrepreneurship, International Business, and Business Leadership.  Our focus over the next few years will be to expand the offerings in our school store and the students in the SHSM program will play a significant role in this!
This year in addition to CPR, First Aid, and WHMIS training, we will offer certifications in Customer Service, Conflict Resolution, and Mastering Mental Health and Stress Management.  These timely certification topics will provide students with relevant skills needed for their intended pathway.
We will also participate in Innovation, Creativity, and Entrepreneurship Training this year with a local business.  The business will provide us with a problem they are facing and we will help them develop solutions for this problem.
Students walk away from the Business SHSM, not only with the required courses and certifications but also with the skills needed for success in the 21st century.
ARTS & CULTURE
Focusing in the Arts and Culture  field helps to prepare you for your future by developing transferable, functional skills such as writing, critical thinking and communication skills that employers and most work situations require.  Concentrating your studies in a major allows you to gain specific skill sets which are attractive many employers and industries.
The Arts and Culture SHSM program provides a wide variety of areas of study.  You can enjoy courses in culture and heritage,  visual arts, music, dance, theater, film, media arts etc… We also take First Aid, CPR, and AED certifications as well as many field specific certifications such as stage combat and illustration.