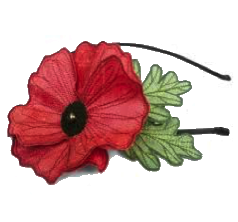 A Partnership between Parry Sound High School, the Town of Parry Sound, the Museum on Tower Hill, the Downtown Business Association, the Royal Canadian Legion Br. 117, the Rotary Club and Goodfellows Masonic Lodge.
Press Release:   Issued by Parry Sound High School,  9AM, Monday, November 18th, 2020
Phase II: Veterans Banners – Extra Information for Museum Website
Nov. 18, Parry Sound, ON – Parry Sound High School, in conjunction with the Museum on Tower Hill and the Town of Parry Sound, announced today the official launch of Phase II of the Community Remembrance Project in regard to our town's veterans banners.
Phase II will allow anyone with a connection to one of the veterans honoured on a banner to submit additional information, pictures and documents about that veteran for permanent storage on a specially designed part of the Museum's website.
Students taking part in Parry Sound High School's trip to Europe for the 75th Anniversary of the Liberation of the Netherlands will enter all the submitted information on the museum's website.
Then, in November 2020, the special section of the Museum website will be made publicly accessible. It will be a searchable database, so people can simply enter a name and access more information about the veterans they see on the banners. A sign or small banner will be put up next November outside the town office telling the public how they can find more information about each veteran they see on a banner, through the Museum website.
Banner sponsors will be emailed information about how to submit their information. However, anyone can pick up and drop off the Phase II forms, along with pictures or other relevant documents, at the Museum or Town Office during their regular business hours, between Nov. 18, 2019 and Jan. 17, 2020.
Information can be submitted in two ways:
1) Online: Using the following link, individuals can fill in a google form and then just click the submit button.
https://docs.google.com/forms/d/1al_dCetWGFEp3jv2V8DVSOJRALvmAJR7Y7ryVybM5Wk/viewform?ts=5dcc4d88&edit_requested=true
Any extra pictures or documents can be scanned and then sent to the following email address:
2) Paper Copy: Individuals can fill in the paper copy by hand and then drop off, with copies of any extra pictures or documents, at the Museum or Town Office during their regular business hours.   Any pictures or documents submitted by hand will be scanned and be ready for pick up in Feb. from the same locations. 
Our school, museum and town look forward to providing the public with additional information on the 212 veterans who have been honoured on banners that grace our streets every November.
Any questions about this program should be directed to Rick Lund at Parry Sound High School, using the following email address:
Richard.Lund@nearnorthschools.ca